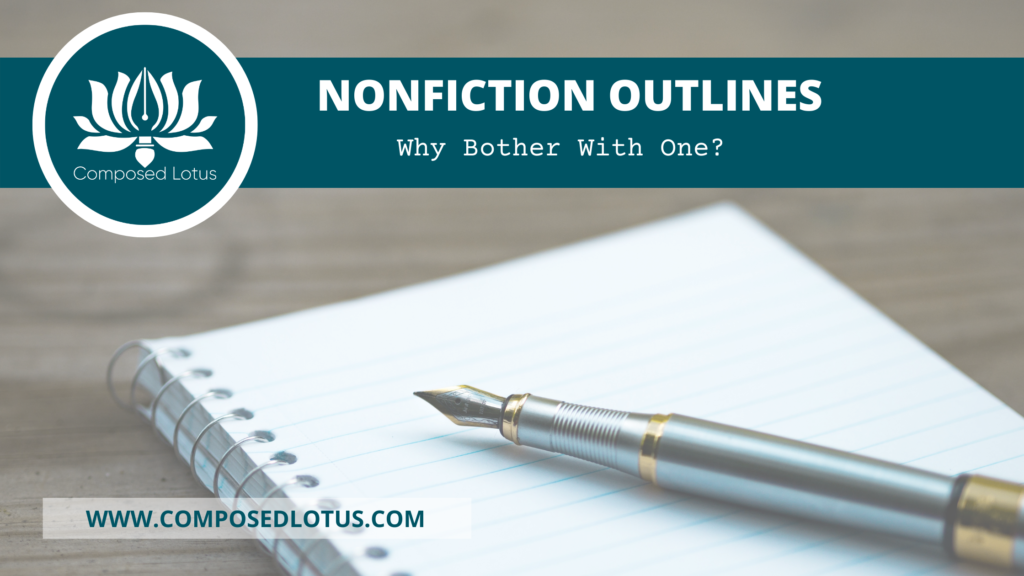 What you'll learn:
Why you need an outline
How to define your "hook"
How to define your target audience
Nonfiction outlining steps
Why nonfiction outlining works
Why You Need an Outline
You have a brilliant idea for a nonfiction book. You start dumping words onto the page as quickly as they come to your mind. After all, you're the subject matter expert with years of experience and all kinds of unique knowledge in your brain.
But have you considered who your target audience is and why they'd pick up a book like yours? What's going to make your book stand out from the competition?

The upfront time investment in a nonfiction book outline will help you to focus on these questions. You need to lead your reader on a logical journey of transformation and deliver what you promised.
An outline helps you meet your target audience's expectations and sets the flow of your book in a thoughtful way.
How to Define Your "Hook"
In one sentence, what is your big idea for your book? Are you solving a problem for your reader? Are you teaching them something? What value are you providing them? Be clear on your purpose.
Define Your Target Audience
That's easy, you say. Adults are your target audience.
Dig a bit deeper. Consider that those adults all come from different backgrounds, age groups, worldviews, and education. How would you narrow down what writing "to an adult" means?
If you're writing a beginner's book on how to invest in cryptocurrency, your target audience likely knows very little basic terminology. What age group would be most likely to be interested in crypto? Would a young adult have the same financial risk tolerance as someone nearing retirement?
If you're writing a book on advanced project management concepts, your reader is more likely to be at a midpoint in their career with good subject matter expertise.
If you can imagine who you're writing to in detail, you stand a much better chance of engaging them. You don't want to risk losing your readers because you didn't understand who they were.
Nonfiction Outlining Steps
Once you have defined your hook and have a good understanding of your target audience, there are a few more important steps:
Assess your competition. Seek out similar books and dig into what you like and don't like about them. Amazon's "Look Inside" feature is very helpful. So are reader reviews.
Generate your ideas using some method of mind-mapping to organize your logical structure. There is an amazing online tool, www.answerthepublic.com, that can help you organize some ideas based on frequently asked questions on any topic.
Finally, do some basic mapping out of your chapters, noting the critical points you want to cover in each chapter.
Decide if you want to include any other material like references, a glossary, appendices, etc.
Think about your target audience now as you review your plan. Does it align?
Why Does Outlining Work?
You don't want to risk confusing your readers. They need to be led through a logical, structured book. They're looking to solve their problem. Otherwise, they wouldn't have picked up your book, right?
A nonfiction book outline:
will save you time as it prevents you from rewriting content or spending too much time moving it around
helps you think through your logical organization to answer the questions your readers might have
allows you to push on through writer's block because when you know what questions you're trying to answer, the words flow more easily
ensures that you don't miss covering important ideas and concepts
In nonfiction, having a solid outline is the key to getting what is in your head onto paper in a logical way that makes sense to your reader, solving their problems or offering them value.
Visit our Composed Lotus Shop to purchase your nonfiction outline template!