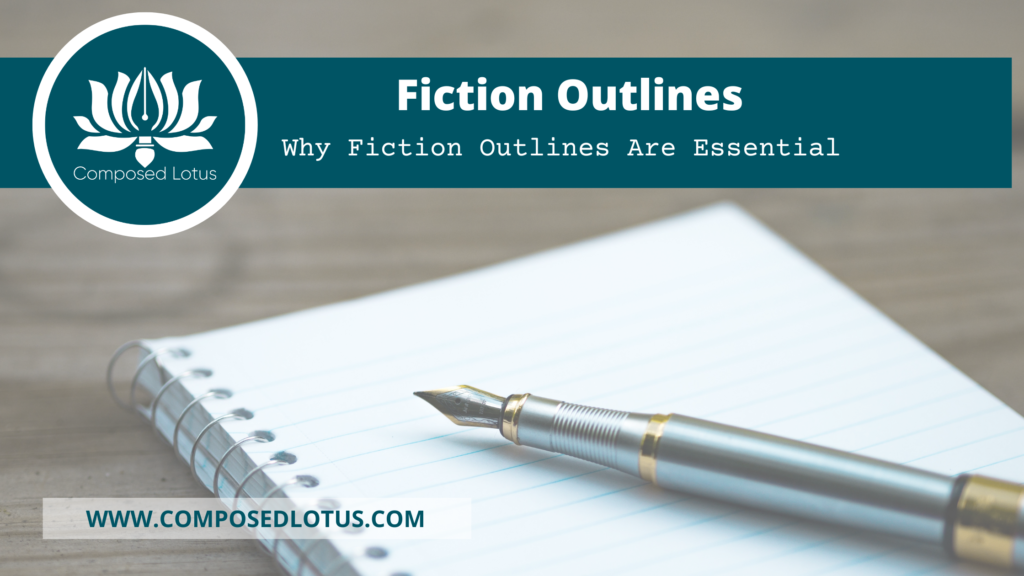 What you'll learn:
Why fiction outlines are so important
The benefits of purchasing a ready-made fiction outline
What makes Composed Lotus fiction outlines so easy to use
Are you a budding fiction writer, but the outline process is giving you a headache? Creating an outline is a completely different process from the actual writing of a book. Sometimes, they can be even harder. Even professional authors who can write beautiful prose and come up with wonderful descriptions can struggle to come up with a good outline.
Every author has gone blank at some point when searching for that perfect idea. Often, hiring someone to do your outline (or purchasing a ready-made outline at Composed Lotus) can be just the spark needed to ignite that flame of your creativity!
A fiction outline is a structural creation that creates and solidifies your characters, the idea for your story, and a formula for how things and events in that story will unfold. They are essential for many reasons:
You will never leave a massive plot hole to be discovered when you've nearly finished your book and you have no easy way of going back to rectify it.
You will have the spine of a solid story worked out from start to finish.
Your characters will be created, fleshed out, and given traits, features, nuances, and whatever you need to bring them to life on the page.
Your writing process will be much smoother, as you won't have to keep stopping, spending days trying to figure out what the next chapter will bring.
You will know how your book ends, so getting to that point is much simpler.
In truth, outlines are fundamental if an author wants to write a good book. Composed Lotus offers three solutions to help you with outlining:
You can purchase our fiction outline template and plot your own story
You can hire our ghostwriters to help you plot your outline
You can purchase a ready-made outline from our Composed Lotus store
Why not consider a ready-made fiction outline? As authors, we can be extremely critical of our own ideas, so much so that we can often struggle to get past the planting-of-the-seed stage in creating a story. Our idea—whether brilliant or just okay—never gets a chance to germinate, never mind blossom. Using a ready-made outline saves you the headache of trying to come up with an idea.
A ready-made outline frees you up for the fun part. You won't focus so much on criticizing your idea, and all of your creativity can be used for the writing process!
If you purchase a Composed Lotus ready-made fiction outline instead of relying on Google searches for your ideas, you can be sure that we have put in the time and effort to make our ideas original and fun.
As each outline is purchased, we remove it from our store and replace it with another idea that is different. This way, there won't be twenty budding authors out there working on the same idea! It will be completely yours.
Our outlines are extremely broad in structure. They aren't set in stone, with an abundance of wiggle room and different angles. In the end, the story you create will be a complete original. We believe that if we gave the same outline to a hundred authors and asked them to write the story, every book would be vastly different.
Our outlines aren't just a brilliant way for you to write a great book, they are full of tips and tricks to help you along in your journey.
To put it simply, Composed Lotus ready-made outlines are a great way for you to write a book. And remember, struggling for an idea is nothing new in writing. In fact, it is probably the most common reason why potential best-selling authors never even begin their first book. There is never any shame in asking for a jump-start!
Want to learn more?  Browse our ready-made outlines in our online store or grab a blank fiction outline template. Or drop us a line, and we will happily discuss your idea. We are certain you will find the perfect ghostwriter to help you plot your outline.